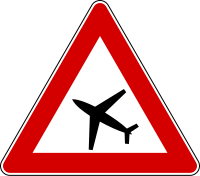 Caution: Low Flying Planes
Image via
Wikipedia
A letter in support of more commercial flights over quiet bucolic communities.

Dear Editor,
A recent FAA directive rerouting flights from major city airports over suburban areas is a much-needed public initiative.
The directive will greatly improve the lives of neighborhood residents by keeping people inside away from hazardous conditions outdoors.

In just a few weeks time, local governments will see a reduction in bloated EMT budgets from numerous 911 calls involving deadly yard incidents.
Technicians will no longer work overtime responding to emergency fingernail hangings, hair branch strangulations, or deadly head-on toe collisions. This will save health insurers millions of dollars a year in addition to putting money back into taxpayer's pockets.


Additional plane exhaust falling into our lakes and wells will only improve the taste of bland drinking water by adding savory bits of aerosol, sulfuric acid, and engine soot. Just add a twist of lime and – voila!

While some will grumble at the sight of more planes overhead, I will sigh with relief. There's nothing like the soothing rumble of a low flying 757 at 7 a.m. in the morning to drown out the sound of woodpecker demolition crews and loud gossipy crows.
No more evenings wasted spending hours gazing skyward in excruciating wonderment, guessing whether a bright speck is a star or planet, as I will be comforted in knowing that they're all likely planes.


The affects of nature's seasonal hazards will be a problem of the past. No more lost or stolen ATM cards dropped from frozen numb fingers during icy winter months or strained eyelid muscles from squinting at harsh summer light.
And perhaps, in the not-too-distant future when the sky is completely blanketed with planes, sunlight will no longer filter to the ground, harming us with dangerous UV rays.


Thank you, FAA. I applaud your decision to enrich our lives by overcrowding our skies and saving us from nature's horrific elements.


Sincerely,
A concerned citizen and FAA employee.