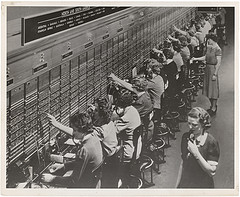 Image by The U.S. National Archives via Flickr
GRIM
I'm so busy answering phones I don't have time to complain. I'm not happy unless I complain.
I have to let the outsiders know that I'm a martyr. But, it's too easy to use the front door. There's got to be another way out of here.
GRIMMER
There is no other way out.
GRIM
The window. I can jump out the window. I might break a leg or get a concussion.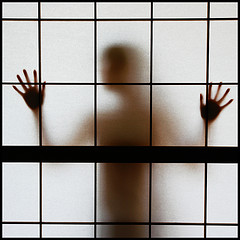 GRIMMER
It's too far a drop, although it is lovely outside, but the deer leave Bambi droppings on the grass.
GRIM
Who cares about Bambi droppings? I just need to let everyone know how important I am.
GRIMMER
Maybe the window is the way to go. Breaking a leg would prevent you from answering the phones and speaking to nasty pungent people, as odious as sweat-ripened sneakers on a summer's day. But then again, it's my turn to complain more . . .
GRIM
But you don't have to answer the phones and speak to the vocally oppressive like I do. The phones keep me from seeing the light of day, except for the window . . . I can jump out the window.
GRIMMER
No. You'd just break your leg and complain about your injuries. I can't have that. I need to be the top dog bitching around here.

GRIM
I'd never get in the way of that. I'll only complain on Monday's and Wednesday's. You've got the other three days and skeleton crew holidays. You're my bitch. You always will be.
I wrote this a month ago while still employed. Grim and Grimmer were the nicknames I had for two women in the office where I worked. Having a private joke is a great way to stay sane and make it through a work week. Do you have any nicknames for co-workers? Do you work with people with monochrome personalities?