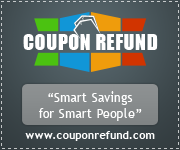 As the tagline says, CouponRefund.com offers "Smart Savings for Smart People" but doesn't say that CouponRefund.com is the ultimate online resource for couponing junkies.
Isn't it time for another coupon fix?
At CouponRefund.com, a team of coupon specialists searches the far reaches of the shopping universe for the latest coupon codes, discount deals, promotional codes, clearance sales – yada, yada, yada – free shipping and lots of other special offers for people just like you.
Yes, you.
Hey, I'm talking to YOU!!!
Back in 2007, the folks at CouponRefund had an Alice in Wonderland psychotic like vision to help consumers save money on their online purchases. And now four-years later, the numbers speak loudly in a silent wordage sort of way:
Total Coupons used 87,864
Total dollars saved $1,618,317
And it's never too late to start saving unless you've already gone into the hereafter-light above CouponRefund.com.
But if you're still here and not after, get your virtual butt on over to CouponRefund.com and save, save, save. While you're browsing all the deals, don't forget to sign up for their newsletter or follow them on FaceBook and Twitter for breaking coupon news.
So, be coupon smart and cyber-hop over to CouponRefund.com today. You'll save lots of dough, without losing your mind or your way. Cruising the Coupon hood is a piece of cake.
I didn't just say that.
Yes, you did.
Disclaimer: I didn't receive any coupons or freebies from writing this review. Just a shout out at their blog.